A pampering day just for you.
Day Spa at Lake Achensee
Why not take some time out in the peace and tranquility of our Wiesenhof spa as a day guest? Give your mind a break and spend a day of indulgent relaxation in various themed saunas and our amazing swimming hall at our KARWENDEL SPA.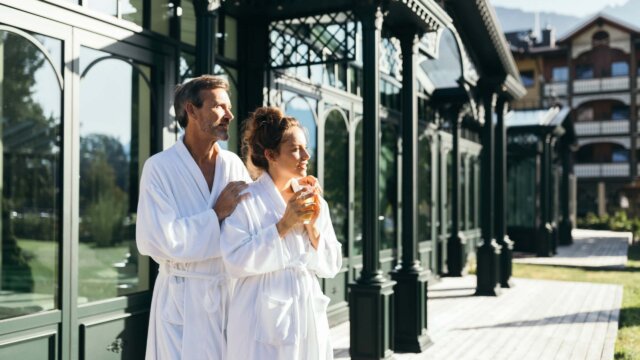 Day Spa Wellness Relax
Your pampering package at our KARWENDEL SPA includes:
Rich Wiesenhof breakfast from 7:00 to 11:00
Sauna basket with a soft bathrobe and towels for the duration of your stay
Use of the saunas and steam rooms
Use of the swimming hall and the relax pool
Use of the fitness centre
Price per person EUR 73 incl. VAT, excl. accommodation
Day Spa Wellness Superior
Your pampering package in our KARWENDEL SPA includes:
Rich Wiesenhof breakfast from 7:00 to 11:00
From 17.00 to 20.00 Wiesenhof  LINNER – a combination of lunch & dinner – with fine soups and salads, hearty starters, light main courses, delicious desserts
Sauna basket with a soft bathrobe and towels for the duration of your stay
Use of the saunas and steam rooms
Use of the swimming hall and the relax pool
Use of the fitness centre
Price per person EUR 143 incl. VAT, excl. accommodation