Explore nature in an environmentally friendly way
E-Mobility on 2 or 4 Wheels
"E-mobility is our commitment to sustainability."
HANS ENTNER
We at the hotel Wiesenhof are committed to protecting nature and the environment and therefore promote e-mobility in Austria. Our guests have a range of opportunities for exploring the wonderful scenery all around our hotel in an environmentally-friendly way. Take a tour with our Tesla S – the e-car of the Year in 2013 – or with our e-carts.
An excursion to the shores of Lake Achensee on one of our e-bikes is another unique experience. Perhaps you would like to venture out on the Segway, a self-balancing vehicle which allows you to explore the surroundings in a leisurely way. Choose your favourite means of transport and set out on an environmentally-friendly discovery tour!

E-Bikes to hire
Take a leisurely battery-assisted cycling tour in fresh open air without breaking a sweat.
Segway tours
Head out into the beautiful nature on our all-terrain Segways.
E-Cart & Tesla S mobil
The special eco-friendly way of driving and exploring the beautiful surroundings.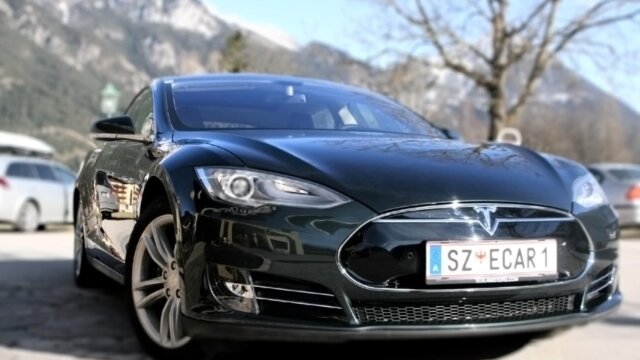 Tesla S
The Tesla S offers you a completely new dimension of e-mobility: selected as the car of the year 2013, 0 emissions, 4.4 seconds from 0 to 100 km/h and 502 kilometers range.
Rental price
Tesla S per day € 350
Tesla S per day for Wiesenhof guests € 250
E-Carts
Explore the Nature Park Karwendel in an eco-friendly way with our e-carts.
Rental prices
E-Cart 2-seater per hour € 25 *)
E-Cart 6-seater per hour € 45 *)
*) Wiesenhof guests receive 20% discount.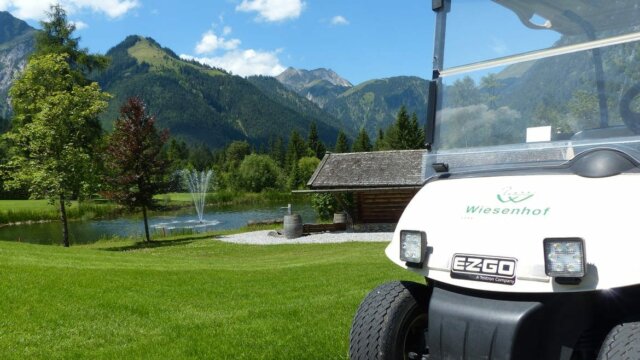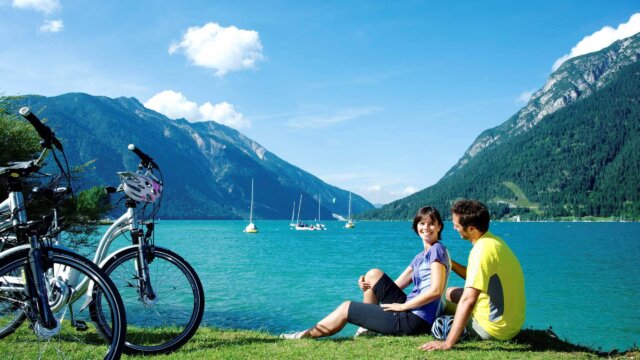 Modern E-Bikes
In addition to normal bicycles, the Wiesenhof offers state-of-the-art electric bikes to hire. Supported by an electric motor you can explore the region without effort. The batteries last approx. 100 km so you can easily plan an extensive tour.
Rental prices
Bicycle per day € 25 *)
Electric bike per day € 35
*) Wiesenhof guests receive 20% discount.
Segways
The Segway® Human Transporter (HT) is the world's first self-balancing, zero emissions personal transportation vehicle – a perfect way to explore Pertisau and its surroundings. Due to the simple and intuitive handling only a short instruction is necessary before you can mount the Segway. It's a fun vehicle and popular with young and old. The Segways are often booked as a special highlight at corporate events and incentives. And last but not least, the silent, battery-operated Segway is a quiet means of transportation.
Segways to hire at the Wiesenhof  € 25 per hour *)
Safety first
Although the normal use of a Segway is very simple, the following safety regulations apply:
Wearing a helmet is mandatory! Complimentary helmets are provided by the Wiesenhof.
Sturdy shoes are required. No flip-flops! For longer excursions we recommend warm and weatherproof clothing (long trousers, rain jacket, etc.)
Mind the traffic. In Austria Segways are subject to bicycle regulations.
*) Wiesenhof guests receive 20% discount.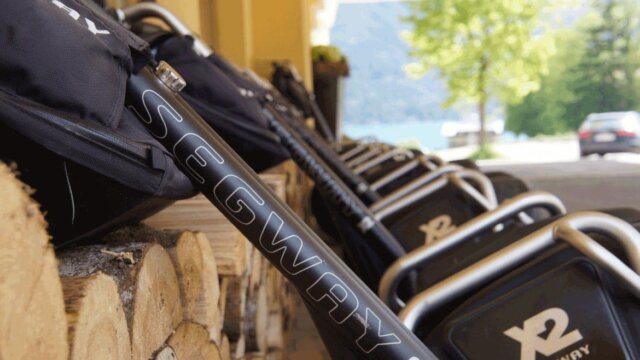 Preise
Prices
Fahrrad
Bicycle
pro Tag*
per day
€ 25
E-Bike
pro Tag
per day
€ 35
Segway
pro Std.*
per hour
€ 25
Golfcart
pro Std.*
per hour
€ 25
Golfcart 6-Sitzer
6-seater
pro Std.*
per hour
€ 45
Tesla
pro Tag
per day
€ 350 bzw.
€ 250 für Hausgäste
for Wiesenhof guests
*) Wiesenhof-Gäste erhalten 20% Rabatt.
Wiesenhof guests receive 20% discount.
The most enjoyable stay.
Tastefully appointed rooms and suites with great attention to detail ensure a relaxing stay and a good night's sleep.