Mindful eating for your well-being
Innovative Culinary Experience
Our new kitchen philosophy Wiesenhof LINNER is dedicated to light and healthy meals.
Spend your well-deserved holidays the way you want. Exactly to your taste, following your rhythm. Have a leisurely breakfast until late in the morning before heading out into the beautiful outdoors for hiking, cycling, golfing or horseback riding. So much exercise in the fresh mountain air makes you hungry. This is why the Wiesenhof LINNER already awaits you in the afternoon with delicious soups and salads, tasty starters, light main courses and mouth-watering desserts. The new innovative kitchen philosophy Wiesenhof LINNER – a combination of lunch & dinner – focuses on regional, light and deliberately reduced dishes. A balanced, mindful and early dinner results in longer periods between eating which can enhance your overall well-being and help you sleep better.
Sumptuous Wiesenhof breakfast
07:00 – 11:00
Early or late riser? Enjoy a delicious and sumptuous breakfast and fortify yourself for the day.
Homemade breads, rolls and toast, fresh fruit, fruit jams (also sugar free), honey, a range of organic food with lots of different cereals and yoghurts, a selection of fine teas, invigorating juices and freshly squeezed orange and carrot juice.
Tirolean bacon, cold cuts and ham, and delicious cheese freshly cut at our deli counter and egg dishes freshly prepared in the front cooking.
Small menu
12:00 – 16:00
A varied range of delicious soups, fresh salads, exquisite dishes and delectable desserts is available from our "small menu" à la carte from 12:00 to 16:00.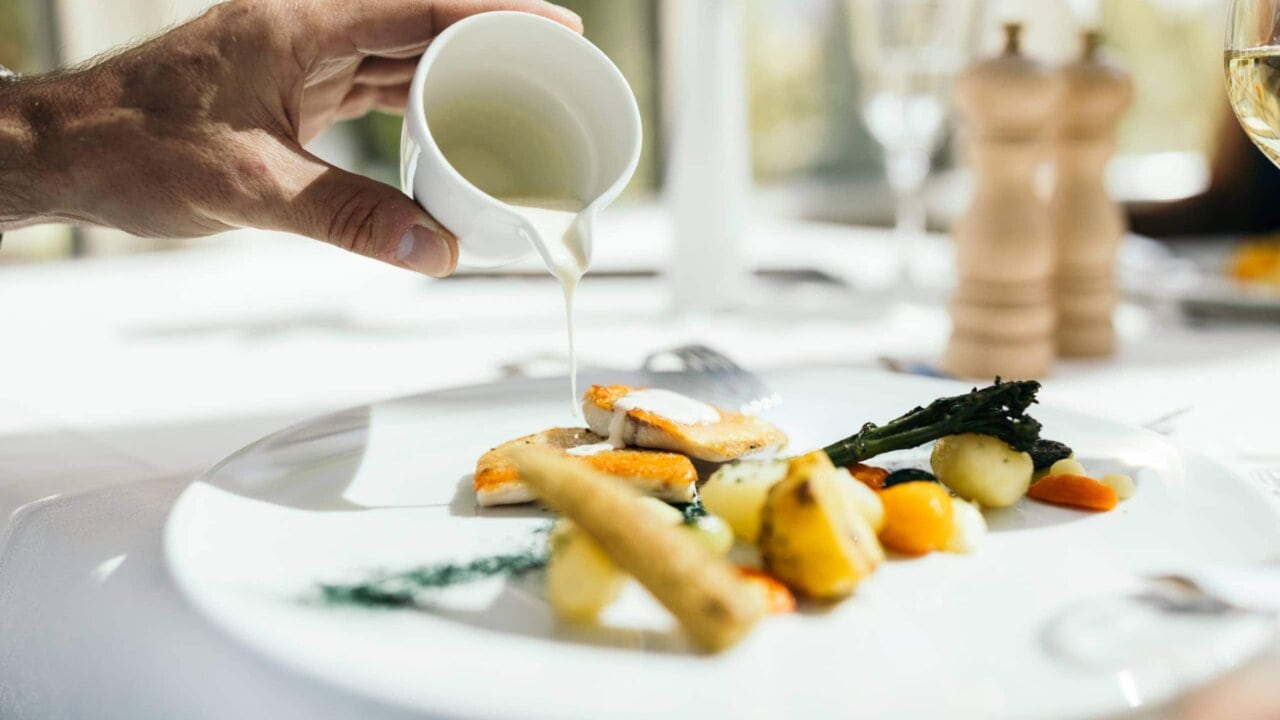 Wiesenhof LINNER
17:00 – 20:00
Light, tasty dishes freshly prepared with regional produce. Wiesenhof LINNER stands for mindful enjoyment. Each course is a feast for the palate, consciously celebrated, the crowning glory of an unforgettable holiday. Find your favourite seat – in the restaurant, in the parlours, in the lounge or in the garden.
Choose hearty soups and starters, light and wholesome main courses, vegetarian dishes and fine desserts from the daily changing menu. Add zest to your life from the taste of the fine creations. May we serve you a glass of wine from our well-stocked wine cellar? Our sommelier will be happy to advise you.
Your favourite place
Take a seat at one of the lovingly laid tables in our restaurant and porcelain room with a view of Lake Achensee, in the cosy cuckoo's nest, in the welcoming atmosphere of the Seestube, in the stylish ambience of the spacious lounge.
Which one is your favourite place? At the Wiesenhof, you may choose your preferred table. All meals at breakfast and LINNER will be served at the table. Of course we are happy to reserve the family table in the restaurant or in the Seestube for families and groups.
Our arolla pine parlour can also be used as an independent lounge and dining room for large families or groups.